Easy & Delicious Homemade Coffee Cocktail Recipes
Our favorite holiday coffee cocktails will keep you warm and extra merry this winter! Any of these festive, delicious drinks are easy to make at home. Now, who's ready to get jolly?
Jack Frost
This peppermint whiskey drink will have you ready to sing some carols! This sweet cocktail is the perfect winter treat.
You'll need:
1.5 oz Jack Daniel's Single Barrel whiskey
1.25 cups crushed peppermint
Deep Roots Full City Roast fair trade, organic coffee
Sugar
Lightly whipped cream
The steps:
Start by making the peppermint syrup. It's easier than you think! Just crush 1 cup of candy canes and mix it will 1 cup of water. Heat until the candy dissolves, and then store the syrup in a glass and let it cool in the refrigerator.
Once your syrup is ready, mix your coffee, sugar, and jack together. We recommend using our Deep Roots blend for this cocktail because of its well-balanced cane sugar flavor. Top it off with the cream and sprinkle crushed candy canes—and voilà!
Santa Baby
This cocktail, known as the Café Amore during the rest of the year, is made with cognac and amaretto. This warm drink is perfect to enjoy on a winter evening.
You'll need:
1 ounce Cognac
1 ounce amaretto
6 ounces of Jumpstart French Roast fair trade, organic coffee
Garnish: whipped cream
Garnish: shaved almonds
The steps:
First, pour the Cognac and amaretto into your glass. Feel free to add more amaretto to sweeten the cocktail. Add in our fair trade, organic Jumpstart French Roast to complement the nutty amaretto flavor. Top it off with whipped cream and shaved almonds, and you have a delicious homemade coffee cocktail!
White (Russian) Christmas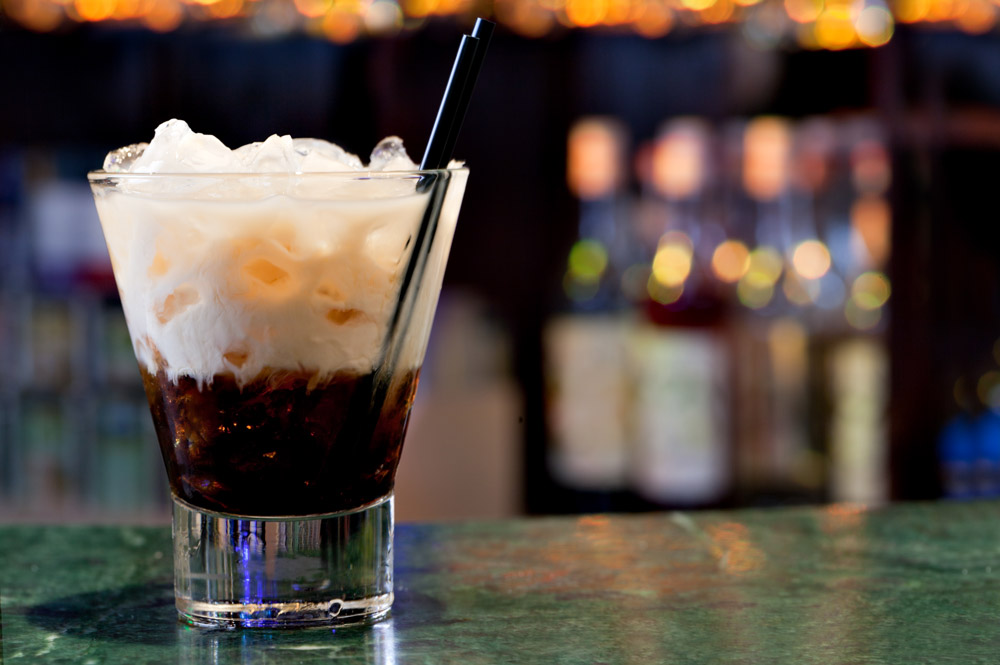 White Russians are a holiday favorite. Though we might not get any snow here in Florida, this delicious cocktail will make you feel like we're having a white Christmas after all!
You'll need:
2.5 cups of freshly brewed Cafe Cubano fair trade, organic coffee
.5 cup heavy cream
.5 cup Kahlúa or other coffee-flavored liqueur, or to taste
.25 cup vodka, or to taste
Whipped cream for garnish if desired
The steps:
In a saucepan, mix the coffee, Kahlúa, 1/2 cup cream, and the vodka, heating the mixture over moderate heat. We recommend our Cafe Cubano roast because of its bold but smooth smoky caramel flavor. Once it's hot, divide the mixture between heated mugs and garnish the cocktails with whipped cream.
Jolly Gingerbread Man
This recipe is a bit more complex, but it's well worth it! Try out the Jolly Gingerbread Man for a decadent dessert cocktail.
For Drinks, you'll need:
For spiced & buttered rum, you'll need:
1 bottle of Captain Morgan's rum
4 oz unsalted butter
2 tablespoons maple syrup
2 tablespoons granulated sugar
2 teaspoons cinnamon
10 cloves
The steps:
Put all of the ingredients except for the rum into a pot and bring to a simmer. Once the butter is melted, slowly begin stirring in the rum. Pour the mixture into a casserole dish, and place it in freezer for 35 minutes. Skim butter fat from surface. Pour through a fine mesh strainer.
Once you have your spiced and buttered rum all ready to go, it's time to make the drink! Mix the spiced rum, ginger syrup, and coffee together before adding in the half and half. We recommend the Brown Sugar Viennese Roast because of (you guessed it) the sweet brown sugar flavor. Garnish with whipped cream and a ginger snap cookie.
Celebrate with Sweetwater Organic Coffee
Feel good about what's in your cup this holiday season with fair trade, organic coffee from Sweetwater. We partner with farmers around the globe to change the world, one great cup of coffee at a time. Shop our delicious, sustainably sourced coffees, locally roasted in Gainesville, Florida.