We met Eric Jazvac through Wunderland Custom Tattoo in the heart of downtown Gainesville to create our oh-so-very-local winter blend coffee bag. He lives and works here as a full-time artist and part-owner of the tattoo shop alongside his friend Vinnie Fiorello.
"Vinnie is a really wonderful friend and supporter of Sweetwater," said Sweetwater's CEO Tripp Pomeroy. "Over the past couple of years we've been talking about ways to collaborate. All of us at Sweetwater thought that tapping into Wunderland's artistic perspective to create special coffee labels for some of our featured coffees would be a great way to connect in a meaningful way. In the case of High Spirits... Vinnie connected with Eric and gave him the vibe and Eric came up with a really fun design. That was the genesis of it and we are going to be doing many more collaborations with Wunderland, so stay tuned for that."
*
Sweetwater: What inspired the bag design?
Eric: It is a friend of mine's house that he has lived in for the last ten years. So, a lot of fond memories. Before I lived in Gainesville, I'd visit and stay there with him.
I didn't live there, but it was sort of the first home of Gainesville for me.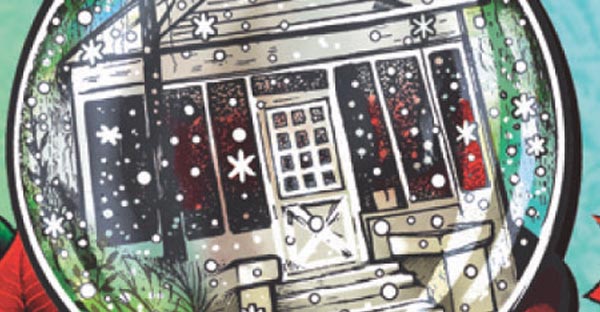 The original version of the idea had ghosts in it, and was in a snow globe with him and his roommate and his dog. The original incarnation of the idea was for a tattoo of the house with ghosts. So, when it was High Spirits, it's kind of a play on that - happy emotions, but spirits, like ghosts. I did a version that was separate for the coffee that had no ghosts.
Sweetwater: How'd you come to do this?
Eric: I guess my people talked to their people. Vinnie, my partner at the shop, he does work with them for promo and art things so he had asked me if I wanted to do the label for what it was and I said sure; that was my part of the relay race. I did the poinsettias as well to add some more background to it and make it more holiday feel. I knew it was going on a red bag.
Sweetwater: Are you a coffee drinker?
Eric: I love coffee - Sweetwater's coffee is delicious.
Sweetwater: How do you take it?
Eric: Black.
Sweetwater: How'd you get into tattooing?
Eric: I've done tattoos as my full-time gig for the last 13 years, but on the side, and before that, I'd do other art mediums whether painting or illustration. As far as background, I did a lot through school, same art teacher through middle to high school. I spent a lot of time there and I became friends with (people who did tattoos) answering phones - same group of people for nine years. Moved to Gainesville to open up Wunderland Tattoos, me and Vinnie opened up the shop together in 2015.
Back to the House on the cover of high spirits coffee, my friend Brian who I'd grown up with in South FL, started working for Less Than Jake, which Vinnie was the drummer of. Brian, who I'd spent years learning how to tattoo on... Vinnie expressed he wanted a tattoo the next time I was in town. I'd stay with Brian and tattoo Vinnie and when the timing was right, when I was ready to move out of South Florida, this sounded like the right fit.
*
And there you have it: Eric's full-circle story from the high spirits house to the High Spirits winter blend coffee bag. Available through January online.