Cats & Coffee? Meow you're talking.
When Caffeinated Cat in Jacksonville Beach, Fla., opened Labor Day weekend 2019, owner Tammy King felt like she had no idea what she was doing but knew she wanted space to adopt her cats out while serving good coffee.
Her guiding light was a sense of duty toward the strays of Jacksonville; the cafe an extension of her rescue organization Mayport Cats, a full-service cat adoption agency specializing in street cats that she's been running for 17 years.
Sweetwater: How did you start the Caffeinated Cat?
TAMMY: Basically, donations plummeted the past two years and we needed a way to continue our program helping cats. I'm completely ignorant when it comes to opening up a thrift store so I decided to open up a coffee shop instead.
Sweetwater: And was that easier than opening a thrift store?
TAMMY: No! Are you out of your mind?
We were desperately seeking a way to raise funds and educate the public, get cats adopted, there was an explosion of cats… We'd seen other cat cafes where it's a coffee shop that partnered with a rescue group. And so I figured that if we were all one and the same, coffeeshop and rescue, that would be a greater help.
We'd be able to keep all the funds for helping the cats, and we would be able to get our cats adopted and educate more people and just have, I don't know, a space where people come in and we can talk to them about cats. We wanted a relaxing atmosphere to make people feel comfortable and a place for our cats to chill and get better.
Sweetwater: Do you think it's unique to Jacksonville or is it everywhere?
TAMMY: I think it's everywhere in the South. I know Georgia's really bad, Florida's really bad, it's in the South because in the South… Well, up North you have an end to kitten season, between April and July and then you get another kitten season Sept-Oct. In Florida, kitten season goes March through December. You have January and February to take a deep breath, order more supplies, and rest up (as a cat rescue).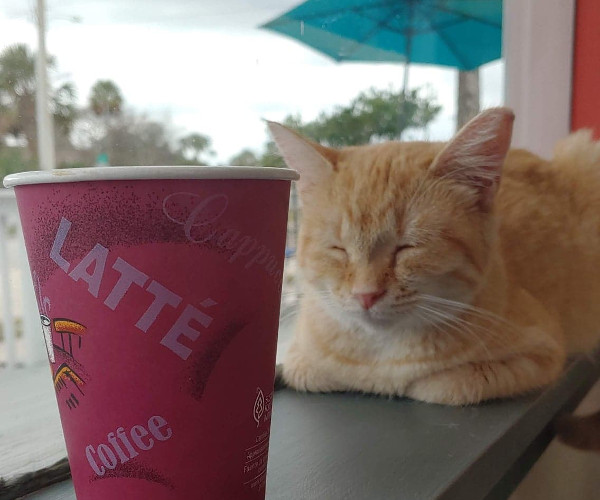 Sweetwater: Because it's warm year-round?
TAMMY: It's warm year round, you have more rural areas, you don't have as progressive - oh how can i put this - up North the cats need to be fixed and they take care of them but down here, dogs take precedent over cats and people kinda ignore the cat or they don't like them. They don't have as progressive a thought on them.
Sweetwater: How much is it to adopt a cat from you?
TAMMY: From us it's $40 for everything. Everybody is fixed and vaccinated — we do not adopt out anything that is not fixed. And we don't do pre-adoptions (you can't reserve kittens).
Sweetwater: What is your business philosophy?
TAMMY: To provide a judgment-free zone that is environmentally responsible and allows for the education and welfare of street cats.
Sweetwater: You have interesting drink names.
TAMMY: We decided rather than come up with something like mocha supreme grande latte vanilla bean mocha something blah blah blah, we decided to name them after cats. If you want a cup of coffee, you say you want a Tabby. If you want decaf, you order a Neutered Tabby.
And then our lattes are named after cats and are kind of designed with a cat theme. The Russian Blue is a lavender latte. A Calico is a latte. The Persian is a latte with any flavoring you want.
We have drinks that we switch out depending on the season. For St. Patrick's Day we had the O'Malley - the cat from The Aristocats. The Santa Claws for Christmas…. The Alley Cat is the dirty chai. The Stray Cat is an Americano. The Black Cat is a double espresso. Iced drinks are Cool Cats.
Sweetwater: How is covid-19 affecting your operations?
TAMMY: We had to limit the number of people visiting the cats at a time. Because the mayor has ordered everybody to wear masks, we have to require you to wear a mask to come in. But because cats can't give it or get it, we're pretty good on that aspect.
Anything you want to promote?
TAMMY: Spay and neuter your pets! Street cats are silent pest control.
------------------------------------------------------------------------------------------------------------------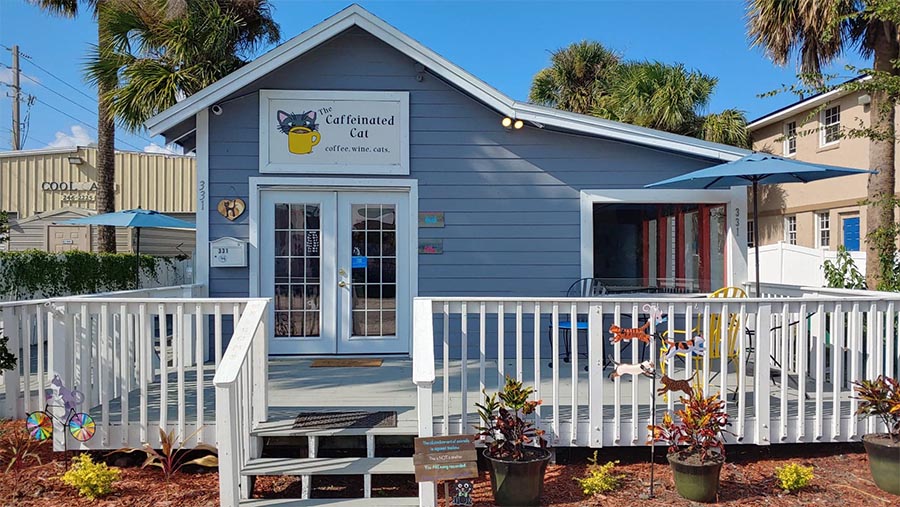 Caffeinated Cat
331 1st Ave N, Jacksonville Beach, FL
(904) 853-5154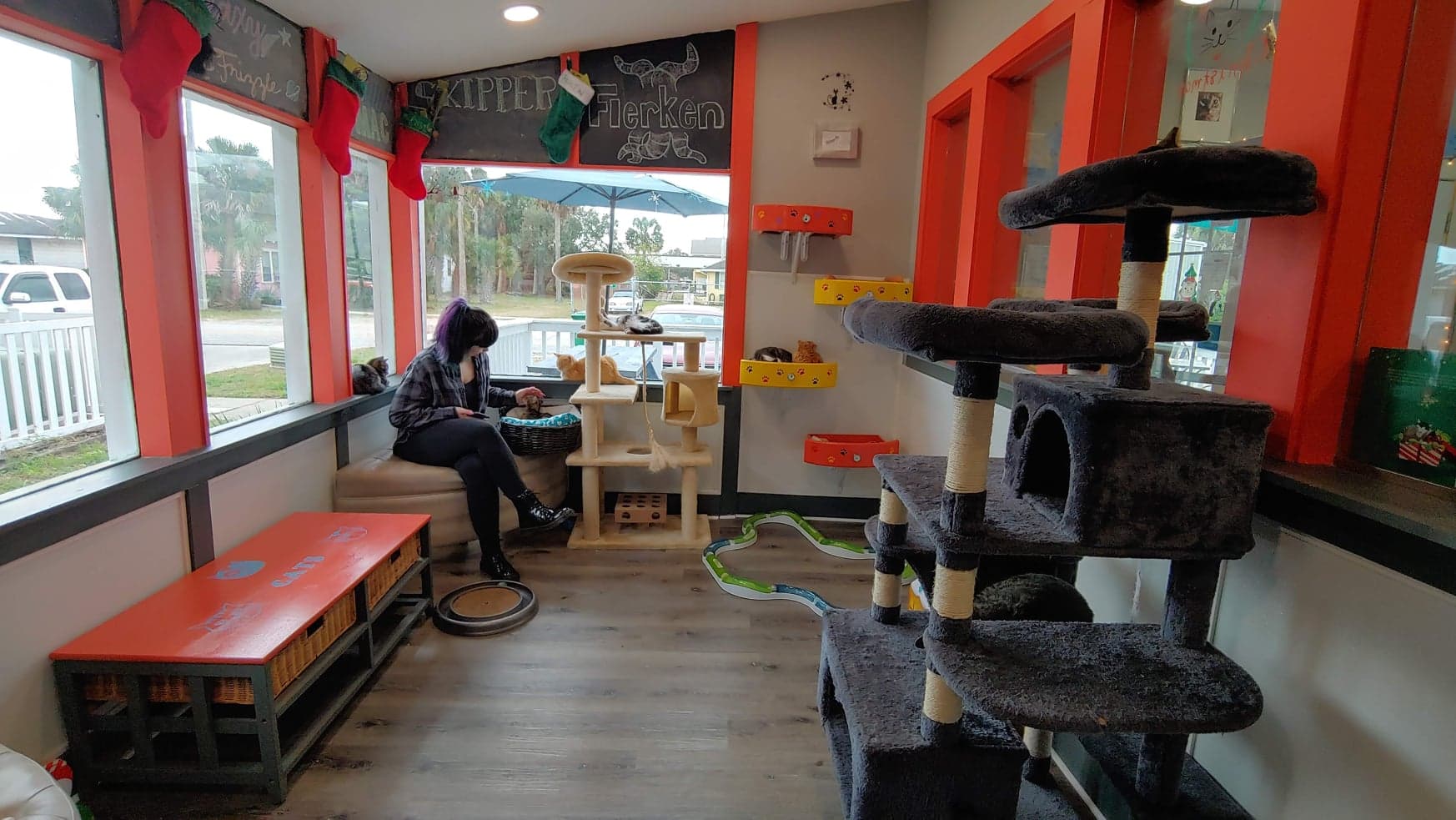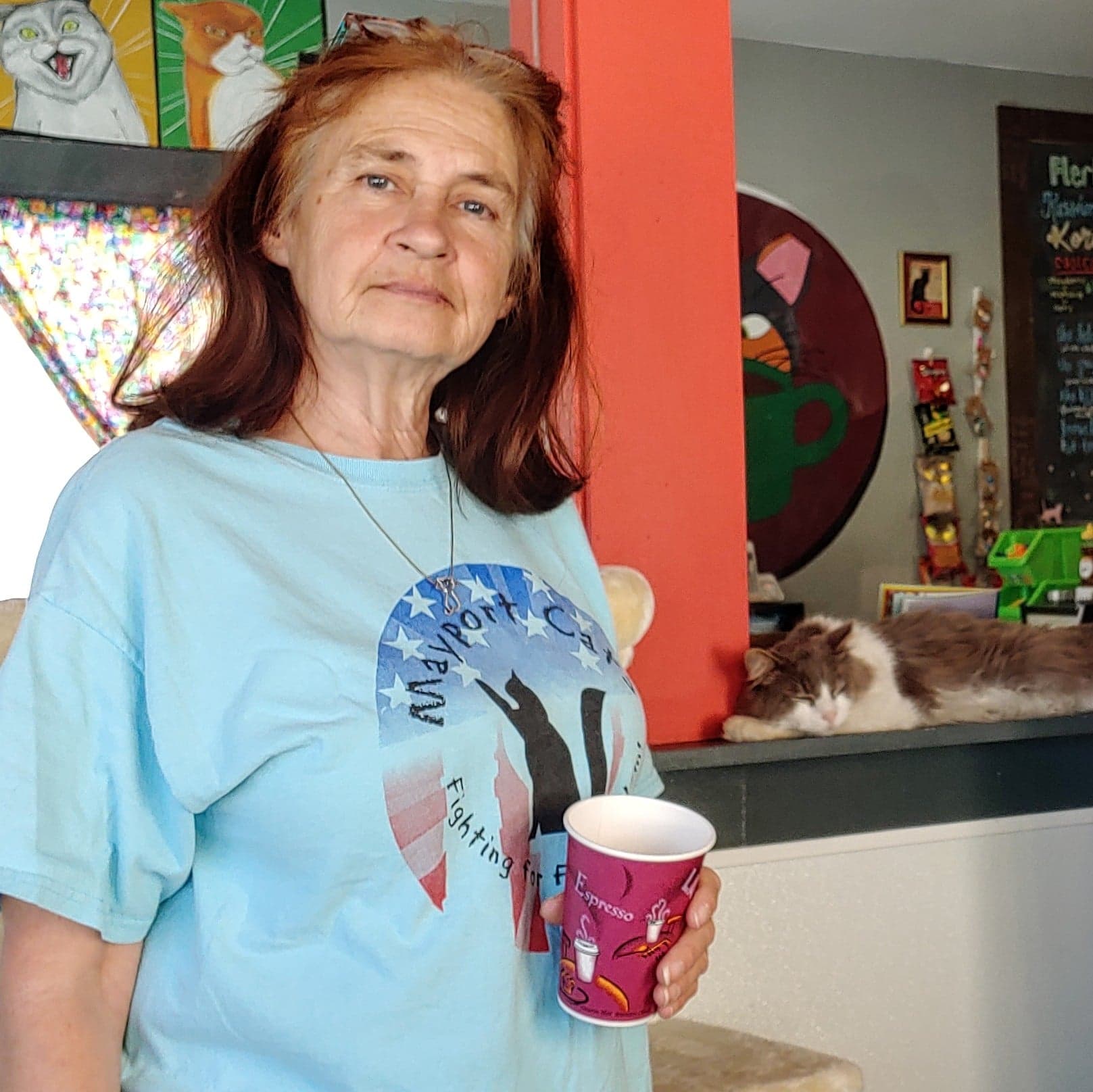 Tammy King of the Caffeinated Cat in Jacksonville Beach.