Less than a mile south of the Florida Aquarium and over a little bridge, you'll hit Cry Baby Cafe - a good-vibes foodie destination for coffee lovers located in Tampa's Harbour Island. After closing due to coronavirus concerns they've since reopened with contactless systems in place so you can get made-to-order sandwiches, salads, lattes, cold brew - whatever is fresh on the menu that day. They feature a coffee-of-the-month and sell bags of the coffee on site to brew at home.
In 2003, Andrew Bonnemort opened a deli on Harbour Island called Cafe Dufrain. When a spot became available right across the street in 2014, he took it over to open Cry Baby Cafe, serving gourmet breakfast and lunch. Despite pivoting their operations since coronavirus, the menu is still created fresh and to order, said event-and-marketing-director and longtime crew member Cathy Bellatin.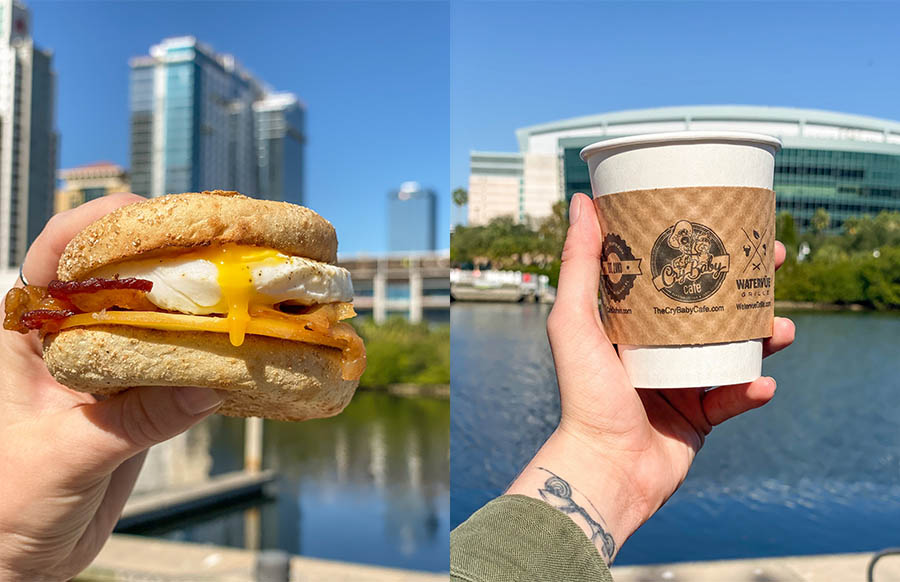 Sweetwater: What happened when COVID-19 hit?
Cathy: We did have to close for several months and then, little by little, we were allowed to reopen. No seating inside, but we reopened up 20% and then 50%. We've actually incorporated a new system and it's called Post. It's more of a contactless type of approach since we're all trying to keep our distance so you can - it's kinda crazy - we have a QR code so you can scan it if you're walking by the window or you can order online so you can come inside, grab your food and leave. There's also been a kiosk set up by the door. You can place your order on the kiosk so you can order it, grab it and go. Usually you're so used to customer service and interacting, and now it's like a don't-interact-with-me type of thing, it's a different world!
Sweetwater: What is your business or food philosophy?
Cathy: We wanted to do something fresh, different fresh, grab-n-go; a lot of people, even before Covid, were coming in to get a sandwich or salad; it was fresh - it hadn't been just sitting there. Everything's made in-house, our salad dressing is made in-house. We order our bread every single day, we make our own roasted turkey and we slice it there. We have the ability to do things in-house, and that's where Sweetwater came in, their philosophy on organics and the support they do for the coffee cooperatives - they're doing great things, So that's the only coffee that we've carried since we've carried coffee. We try to support local as much as possible because we're a family owned business, too.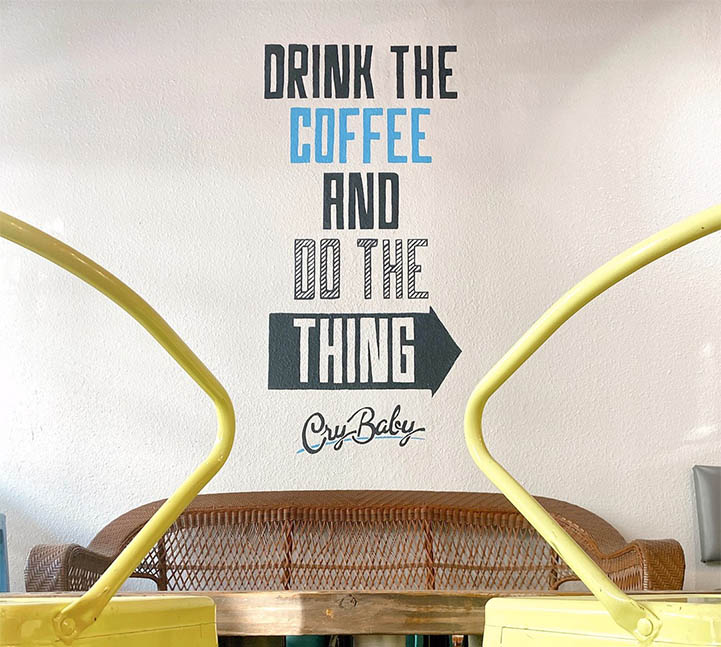 Sweetwater: Anything you want to promote?
Cathy: That we're open. We're open! Come in! It's very local there, too, because it's on an island so we do get a lot of business from the local people but nowadays we try to promote ordering from the comfort of your own home, we'll still prepare it to order. It's still fresh but with the times being the way they are, we're trying to minimize contact and keep everyone as safe as possible.
Cry Baby Cafe
710 Harbour Post Drive
Tampa, FL
Open daily 8 a.m. - 1:45 p.m.