Cornelia started the Sweetwater Branch Inn in 1993. Her family moved into the blue VIctorian mansion around the time she left for college, but her time spent cooking as a child between Italy and Florida prepared her for when she would go on to turn the peach-colored house next door, and then, the adjacent blue family home into an inn.
Overtime, she built bungalows on the two acres in the back to house more guests. Its beauty attracts engaged couples all year long who want their weddings hosted there.
The bungalows offer an especially safe distance from the bustling world while located right in urban Gainesville, FL. She said they have been operating safely through the pandemic, except right now they can only serve bagged meals and organic coffee to go.
Cornelia has been a customer for more than 10 years and serves Moka Java, a favorite among customers and staff over here. Named after the Port of Mocha on the Red Sea coast of Yemen, Moka Java is an homage to the historic blend of coffee from Indonesia and Yemen, a credited birthplace of coffee when the Sufis drank it to stay up and pray in the monasteries.
Adapting to Coronavirus
Sweetwater Organic Coffee: If people are nervous about traveling, what can you tell them about being safe and staying at the inn?
Cornelia: Mostly we are misting rooms and wiping down surfaces and doorknobs. Apparently, being in proximity to someone with coronavirus, you inhale a droplet and you're done. Our housekeepers wear masks and we've always disinfected and kept our rooms clean and our rooms have always been very airy.
They're not rooms that don't have windows - all of our windows open. If somebody wants to open their windows they can. So that kind of makes it feel like you're not in a stuffy room. (You can) request a room that hasn't been accommodated (for a couple days) — the droplets come out in the air, apparently they don't fall down to the ground, that's why they want a separate room.
All this stuff is mind-bending. So we have a lot of open-air areas to hang out, have breakfast at safe distancing — we're doing breakfast in a bag with our homemade muffins, pastries and whatever the chef has got going that day. We're not doing our Chesterton hot breakfast that we used to do because we can't do it safely.
History of the Inn
Sweetwater Organic Coffee: Can you tell me a little about how Sweetwater Branch Inn started?
Cornelia: I started it twenty-seven years ago in 1993. My parents bought the McKinzie House — the big blue mansion — in 1977. It's on the registry of historic homes. My mother moved in after they were unable to rent it because that area was not ready. They moved in when my sister was 13 years old and I was off to my freshman year of college so I never lived there as a youngster but it became our family home for 17 years.
Food Philosophy
Sweetwater Organic Coffee: What is Sweetwater Branch Inn's food philosophy?
Cornelia: I come from a long tradition of really good food, because my mother is Northern Italian - the Piedmont area - so I can cook and I've cooked since a kid. I love to make fresh food. I'm American and a Southern girl, but I'm also Northern Italian, so there's things I love to include in my food like polenta - you can do a million things with it; and I love fresh pastas, making fresh pastas. I don't tolerate yucky packaged processed foods. That's basically my philosophy, don't give me something processed a bunch, I'd rather starve.
That's a part about the food. It has been my hobby since I was 11. My mom owned a whole nature eco-travel company. She started Holbrook Travel, and it's been an institution in Gainesville on north 13th street. She wasn't home a lot, beause she was working all over the world.
I started cooking a lot as a kid — that's how I learned to drive. I got in the car to drive to the store for ingredients. I was driving at 13. I'd go down to the Publix by the Gainesville mall when I was 13 years old; I would drive illegally to the store. Nutella wasn't on the shelf at the time, I could only get it in Italy.
I used to travel a lot so I had seen converted haciendas into accommodations in Latin America; converted haciendas in South America, that's where a lot of my mother's travel happened. We went to Costa Rica and Ecuador a lot, so I knew what transformation could be.
I actually started in the pink house with 5 guest rooms and then from there my mom was still living in the McKinzie House and we were fighting like cats and dogs because I was trying to run my business, and she was trying to tell me how to run it. It was not safety-code endorsed, so I took the blue house and made it code-compliant in 1995. I had been open with the original house in 1993. I had been open 2 years, that's how long my mom and I lasted. I started with 5 rooms and then 13 rooms, then 16, 20 and now I have 25 - I added 5 new bungalows back here on two acres of land.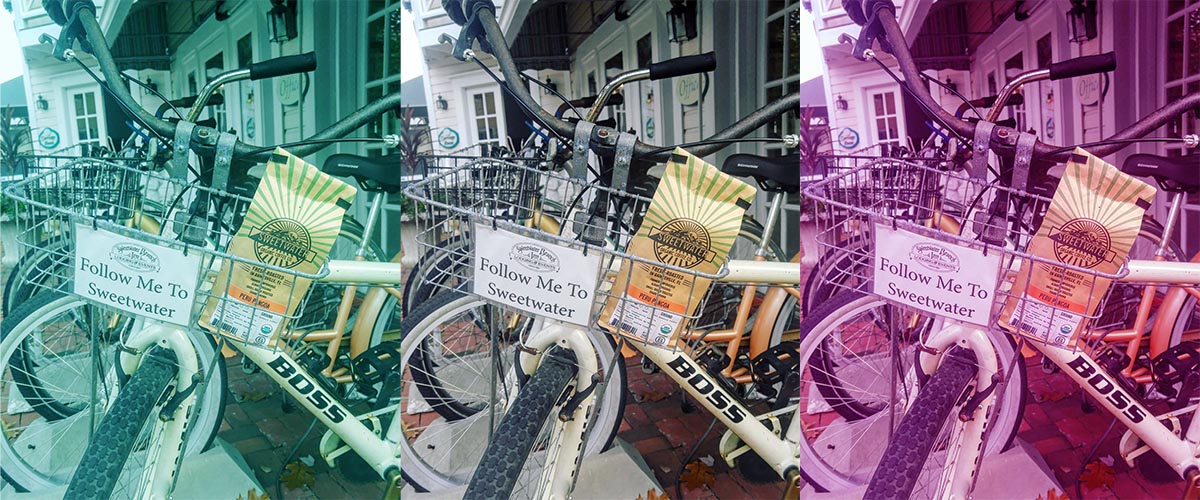 They've Got Bikes!
Sweetwater: Anything you want to promote?
Cornelia: I find bike riding to be natural AC. We've got free bikes!
More Information
Visit https://sweetwaterinn.com/ for bookings or more information.
For travel in the polar regions, the Americas, Africa, Asia and the Pacific, you can explore your options through Cornelia's mom's company Holbrook Travel, also out of Gainesville.
Taking a roadtrip soon? Stay safe using our post 10 Tips For Roadtripping In The Time of Covid-19 as a checklist.