St. Pete-based artist Eva Avenue is living in Europe and documenting her coffee travels. She is currently reporting on the specialty coffee culture in Ireland and Northern Ireland. In a series of articles, Eva will look at the local coffee culture through Sweetwater's lens of sustainability, which emphasizes ethical sourcing from coffee farmers and preservation of the planet.
Dublin's image as you know it is changing.
The old beautiful pubs in stone buildings are closing while its coffee culture grows bigger every day. The influx of techies and big business, and recently the companies leaving London and relocating to Dublin because of Brexit, have helped make it this way. But most of all, it was the 2008 recession that really allowed specialty coffee to take hold.
That's when space became affordable to a growing industry.
So with all this growth, how is Dublin's coffee scene forwarding green initiatives? Let's find out.
I was so lucky to find myself interviewing Karl Purdy, the young grandfather of Ireland's specialty coffee industry in a beautiful conference room above one of his Coffeeangel locations. From a big chair, while sipping a flat white, I typed fast as he spoke and told great, funny stories of failure and success.
Purdy started Coffeangel (Dublin's first specialty coffee shop) in 2004 in the back of a van. He played opera and classical music over his loud generator by the seaside so as not to totally ruin the nice ambiance of seagulls and crashing waves. He stood out there in the freezing cold for four years until he could afford a brick-and-mortar space right off of the populous Grafton Street. Today he has five locations in Dublin, each within a five-minute walk of the next.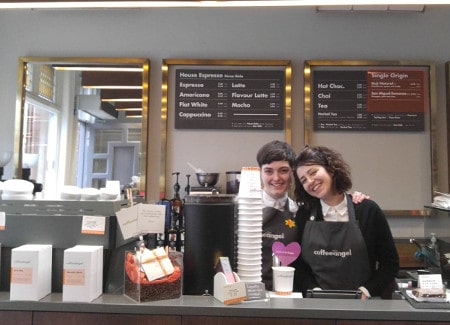 Before he opened his Dublin locations, he started his first coffee shop in the late '90s in Northern Ireland; he got the idea after living in Canada, where coffee shops were a normal part of the landscape.
"I asked a girl out for coffee, which is completely normal, completely civilized, but Belfast in the mid-90s, she didn't know what to think," he said. "It was the most unheard of concept, there were no coffee shops- no coffee culture. If you went out with a girl, you went out to a pub for a few pints, I don't know if she thought I was gay. I found a horrendous cafe where the coffee was appalling. That was the light bulb for me. There's no coffee shops here!"
Today there are more than 200 specialty coffee shops in Ireland.
Ethical Coffee Sourcing in Ireland
Purdy says ethical sourcing is the most important element for specialty coffee in Ireland - traceability in the numbers and making sure farmers are fairly paid. Most of the companies he knows of, especially in the specialty coffee world, are proud and sensible enough to know they're sourcing ethically, he said. He can't imagine a coffee company in Ireland using unethically sourced beans.
"There's no one big enough or ballsy enough to do that horrendous kind of action," he said. "I'd be shocked if I found out that somebody was doing that."
This reminds him of a surprise visit he got while running the first coffee shop he ever opened in Belfast, which introduced specialty coffee to Ireland.
In 1998 at The Ground Floor, he encountered Russell Bailie whose story reminds me a little of Bill Harris, founder of Cooperative Coffees, from whom Sweetwater sources its coffee.
"I'd opened the coffee shop and specialty didn't exist, none of this kind of stuff existed," Purdy said. "We were still first wave, first wave didn't know what it was, it was a still bath, a no-wave of badly roasted Italian blend."
He had a coffee supplier at the time who he was loyal to until they sent their assistant to him under the guise that they needed Purdy to train her to make coffee for boardroom meetings. She worked for him a week or two but at the next trade show, he was introduced to her as their head trainer. Still reeling from feeling hoodwinked by his supplier, he was taken aback when a station wagon pulled up to his coffee shop out of nowhere and a man named Russell Bailie stepped out asking if he wanted to buy the coffee beans out of his car. Purdy was like "heck no."
"I was like 'I don't buy coffee out the back of some guy's car,'" he said. "It was an Italian blend; it was probably pretty crap. He said, 'if you buy my coffee I promise I will never let you down.' So I bought his coffee! To this day he still supplies me. His business has kind of grown with my business. They source directly from all over the world."
That's Bailies Coffee Roasters today, whose website states: "For our farming partners, we're more than a coffee roaster. We're a committed, integral part of what they do. And everything starts with them. For us to deliver exceptional coffee, we foster ethical, sustainable, long-term relationships with some of the world's finest coffee farmers and their communities."
This year, Bailies is also sending their head roaster, Stephen Houston, to compete in the World Brewers Championship at the Specialty Coffee Association Expo in Boston April 11-14. Houston earned first place in the Irish Brewers Cup held in February in Dublin.
For a long time, Bailies was not roasting but importing as a middle man reselling beans from Italy. As the coffee world itself evolved and as Purdy's understanding of the coffee world evolved, he became more demanding.
"In a way, my demands filtered down to him and he responded accordingly. They got a roaster and started buying beans from these merchants in the UK and Holland and supplying us with fresh beans," Purdy said. "What I do ask from him is ethically sourced, money traced back to the source. I can't sell anything that we can't trace back; there has to be some kind of starting point and even if it's a co-op in Ethiopia, we need to at least know that story and know it's not a horrible sweatshop. I don't want to absolve myself from what's going on at origin with the hardships that they face."
I especially admire their business integrity.
"Whether Russell thinks I know it or don't know it, I know there were times if he was low on coffee, he'd have it airlifted from the UK so he wouldn't let me down," Purdy said. "He never charged me; he never made excuses. His job is to source me with coffee and my job is to pay him on time. We understand our role and relationship and built a friendship around that. I'd travel and see something and I'd say 'Russell, can you get that' or 'I need more farm information.' He'd check the name or altitude, more on the family, so I pushed him and he responded... At the same time, the coffee world was changing," Purdy explained. "Our relationship started before cell phones and Twitter. There were no recipes, no dosing, just put the coffee into the portafilters, wipe your finger across and hope for the best."
Fairtrade Organic Coffee in Ireland
"I don't think those tags or those associations are quite as important here," Purdy said. "I think that a lot of it is social media, the noise that's out there, that one day you're told this is good, another day it's bad. Fairtrade is amazing, then it's bad. There's all this noise around it, so you have to filter and trust. For me whether coffee is fairtrade or not is not really relevant. I'd rather have something I know is ethically sourced. If it's fairtrade or rainforest alliance or shade-grown or organic, it's not a determining factor. As long as it's ethically sourced and the customers can get a true story and it tastes good, that's what we hope for," Purdy said.
Signs of Sustainability from Ireland's Baristas
Baristas vying for the winning title at SCA-sponsored competitions know the importance of leading their presentation with a quick talk on the merits of environmental sustainability and stories about meeting farmers at origin, which gave me a sense that this is the accepted standard in Ireland. While watching barista and brewing competitions in Dublin in February, I grew hopeful the new generation will be solution-oriented toward a greener planet.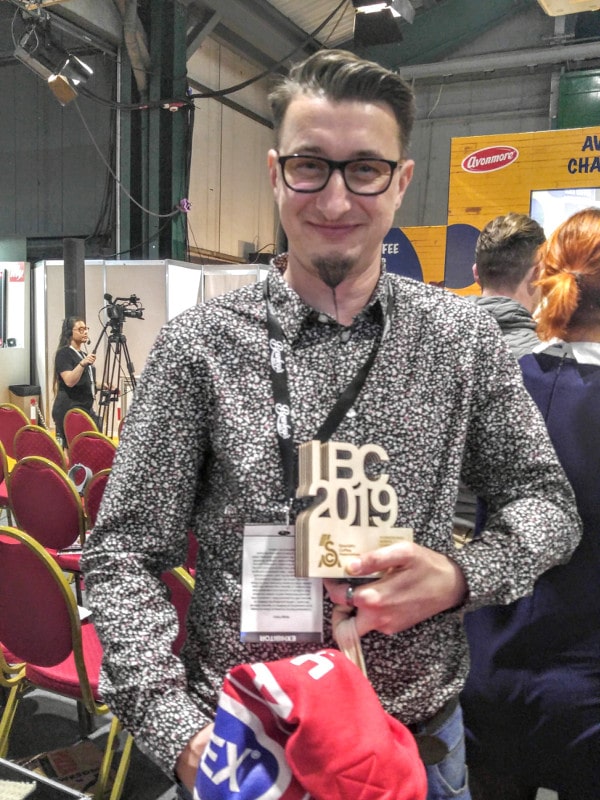 This year's SCA Ireland Barista Champion is Wojciech Tysler, who competes for the title of World Barista Champion in Boston April 11-14. Tysler's specialty drink was presented to the judges with headphones for them to put on, enveloping them in sounds of birds and waves from the tropics while they sipped his blend of mango purée, cold espresso, and Earl Grey cold brew tea with a dash of cold frothed milk.
Damian Marshall, a quick-witted and sassy equipment developer at Urnex, creates and optimizes cleaning products for coffee and espresso machines. He started working with SCA Ireland 13 years ago as a technical judge, but he must have been too efficient and engaged because the next year he was coerced into the role of event coordinator, and then last year became the SCA Ireland National Coordinator.
Has he seen any push from shop owners or baristas for equipment that is environmentally sustainable? Are they mentioning environmental sustainability when they talk with him about equipment?
"The coffee industry worldwide is always looking at new ways to become greener," Marshall said. "Whether this is by using recyclable materials in the manufacturing process, by manufacturing machines that are more temperature stable and use less power. In the case of Urnex they have a range of greener cleaning products. The difficulty with this is to have a green product that can still clean effectively and give the consumer a consistent quality coffee. Can the coffee industry become more green? Absolutely. Can it become completely green? Come back in 50 years and we will see."
Coffee and Climate Change
It's being said the conditions under which coffee is grown in the coffee belt will be severely compromised by 2050. People are wondering how to minimize the damage, and how to be optimistic in the face of glaring projected statistics.
In Ireland, they have Keep Cups - small reusable to-go cups made of plastic. Usually you get a 20 percent discount by bringing it into the coffee shop. But at Coffeeangel, they don't give you the discount. They take 20 percent of that drink sale and send it to Friends Of The Earth, a not-for-profit that works on environmental education that helps influence policy in Ireland.
"Thousands of euros a year we give to Friends of The Earth to talk to the government," Purdy said, "You can't just have compostable-this and recyclable-that if the infrastructure isn't there to do anything with it," he said. "I think we need to continue to educate people, people are almost desensitized. The world is ending, we know that, we're being bombarded with that."
But the coffee community in Ireland hasn't given up the fight to do the right thing for farmers and the planet. Knowing how hard Sweetwater works to source coffee sustainably, it's nice to see this sort of parity across the pond.
Sweetwater's own Authorized SCA Trainers, Hannah Mercer and Nema Etheridge, will be in Boston April 11-14 and will keep an eye on the World Barista and Brewers Cup Championships. Will sustainability also prevail in Boston? We shall see.