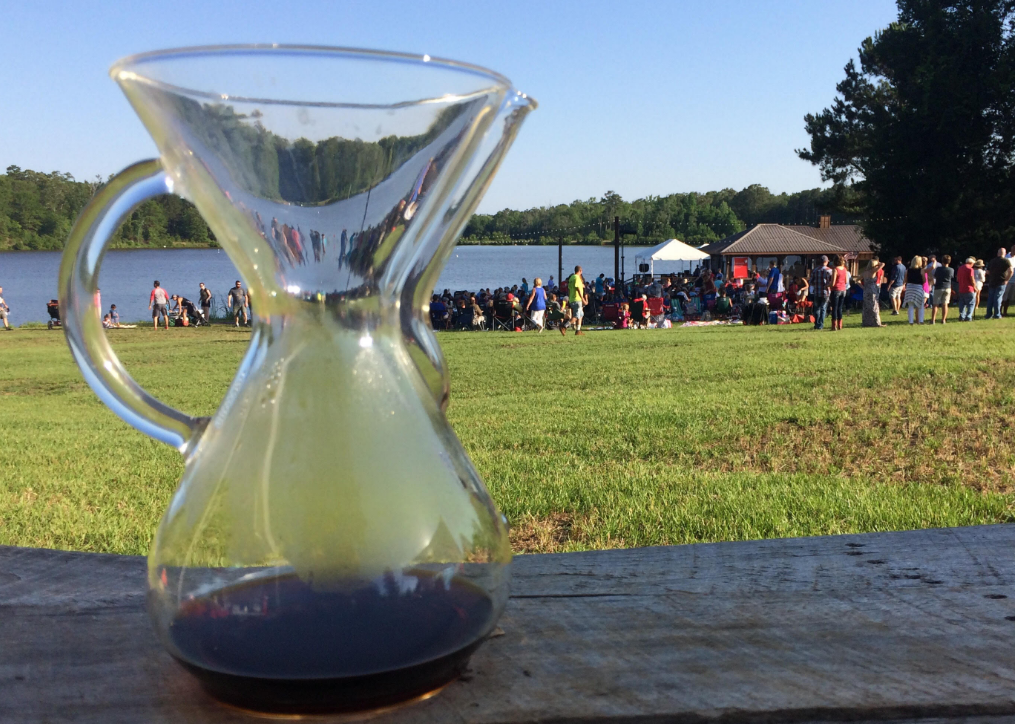 Pour-over coffee preparation has become popular in the Specialty Coffee industry. Nearly every professional barista has his or her own preferred brewing method to achieve a delicious cup of coffee. Our coffee education trainer, Hannah Mercer, loves the Chemex, and she thinks it will make a great gift for dads this Father's Day.
Here's Hannah's quick list of why your dad might love a Chemex.
1.He Loves James Bond- The Chemex's sleek, yet functional design makes it the coffee- brewer-of-choice for cool guys like James Bond. Chemist Peter Schlumbohm, who designed the Chemex, holds more than 300 patents for products including drink shakers and automobiles- all very James Bond(y). And whose dad doesn't love James Bond?
2.He's into the Vintage Look – Developed in 1941, the Chemex is basically the mid-century modern coffee maker. If he likes Mad Men, he'll love a Chemex!
3.He Needs to Impress his Lady- Mom will love seeing her husband transform into a cool coffee dude! In addition to brewing a great cup of coffee, the Chemex also receives accolades for its minimalist design. It is in the permanent collection of both the Museum of Modern Art and the Corning Museum of Glass in New York. Such a winning combo of form and functionality will certainly impress mom and undoubtedly help her forget the "honey-do" list.
4.He's Really into Gadgets- The Chemex can be the ultimate coffee gadget. The Chemex's non-porous glass carafe ensures that no other flavors are imparted to the coffee during brewing, and Dr. Schlumbohm's specially designed double-bonded filters capture coffee's natural oils and sediments, encouraging a quality extraction. The result is a rich, clean cup of coffee.
5.He's a Home-Scientist- If this is your dad, he will love geeking-out over grind-size, water temperature, water weight and pour-style- all variables that affect the resulting flavor of the cup.
6.He Wants to Connect to his Roots- Since the Chemex was designed in the U.S. in the early 1940's, it's likely that his parents or grandparents used one. Brewing a Chemex might put him in touch with his family history, or it might just encourage him to detach from technology and remember what it is like to live in a simpler time.
7.He's Looking for his Zen- Brew times for the Chemex range from four-to-seven minutes, which can create a moment of peace and quiet for a busy dad. Plus, the ritual of grinding your coffee beans, heating your water, and brewing a Chemex can be a great centering activity to start the day.
8.He Loves Great Coffee- Any guy who likes a clean, strong cup of coffee will love a coffee brewed in a Chemex.
Once you have your Sweetwater Organic Coffee and Chemex in-hand, here's Hannah's quick reference guide for brewing a Chemex.
Chemex Brewing Instructions: A Quick Reference Guide
Brewing: 12 oz Cup of Coffee
Needed: 24 grams Coffee, 355 grams water
Bloom weight: 71 grams

1.Prewet Filter - dispose of waste water.

2.Add coffee and level bed - tare scale
3.Add 71g water, start timer. Let bloom for 30 seconds.
4.Add water in four, slow, 71 gram pours, roughly every 15-20 seconds.
Add all water by 3 minutes. All coffee should be finished brewing by 4 minutes.
("The Bloom" occurs when hot water is introduced to coffee for the first time. It is the process in which carbon dioxide escapes from coffee grounds, creating a bubbly surface.)
Hannah is a Specialty Coffee Association Specialized Instructor who offers coffee training with Sweetwater Organic Coffee and Cafe Campesino. Specialized Instructors have received the highest level of distinction in SCA Instruction. In addition to being a Specialized Instructor, Hannah also holds her Level 1 and 2 Barista Certifications.