Sweetwater Organic Coffee & Cafe Campesino visit with Fondo Paez Coperative Members - Cauca,Colombia
After arriving late Saturday night at "La Placa" - the Fondo Paez cooperative's main office and lodge for hosting visitors up in the beautiful mountains of the Cordillera Central of Colombia - the delegation woke up Sunday morning to heavy rain and chilly weather. Thanks to our good friends at Fondo, fresh eggs, arepas and super-fresh hot Fondo Paez coffee, we had no trouble getting busy.
Here's a quick run down with photos to share the past two days with everyone. We head out bright and early tomorrow to meet with another Fondo Paez community, so stay tuned for more photos and updates!
---
Sunday - February 26, 2017
Preliminary meetings with Yuridia Pillimue, the new President of Fondo Paez - the first woman president in the history of the coop!
Organic fertilizer workshop with Gildardo Vitonco Martinez, our wonderful host at La Placa and coordinator of the coop's relatively new organic fertilizer program and "bio-fabrica" (bio-factory). The folks at Fondo Paez named the operation Bio-fabrica as it producing products that they know give them life.
---
Cupping with the Fondo Paez cupping team at La Placa in the coop's new cupping lab. The coop's cupping team is: Hernan Dario Vitonco, Heriberto Daqua Medina, Cesar Pillimue, and Luis Eduardo Daqua Rivera. These four were selected from a pool of 30 applicants. They do not receive payment for their services, though we are working on how Sweetwater can help support the development of their cupping program and, in particular, help the four team members cover their costs, including the 1-1.5 hour journey three of them they have to make to get to the coop's cupping lab in the mountains.
Monday - February 27, 2017
After about an hour on the half journey by truck, we finally reached the path to take us to make our first community visit, setting out on a winding, steep, intense 1.25 mile hike to visit with the coop's La Nueva Colonia community (22 members). On the way, the delegation stopped at the community's primary school with 25 lil' students full of energy and fascination. This school, IE Kwes X Piya Yat - Sede La Nueva Colonia (which means place for education of the Nasa - the name of the indigenous people of Fondo Paez), is actually a member of the coop. They use the on-site coffee farm to teach the children the value of organics and treating the environment with respect. The teacher - Lorena Osnas - handles the whole herd of little ones on her own and we take our hats off to her for her pure dedication and stamina! And if anyone is interested in teaching English for a little while let us know:).
---
Meeting with members of La Nueva Colonia in Jambalo Medio - one of the cooperative's 36 communities. This meeting lasted 2 hours and allowed the delegation and community to get to know each other, ask each other questions, and discuss the value and importance of our relationship.
---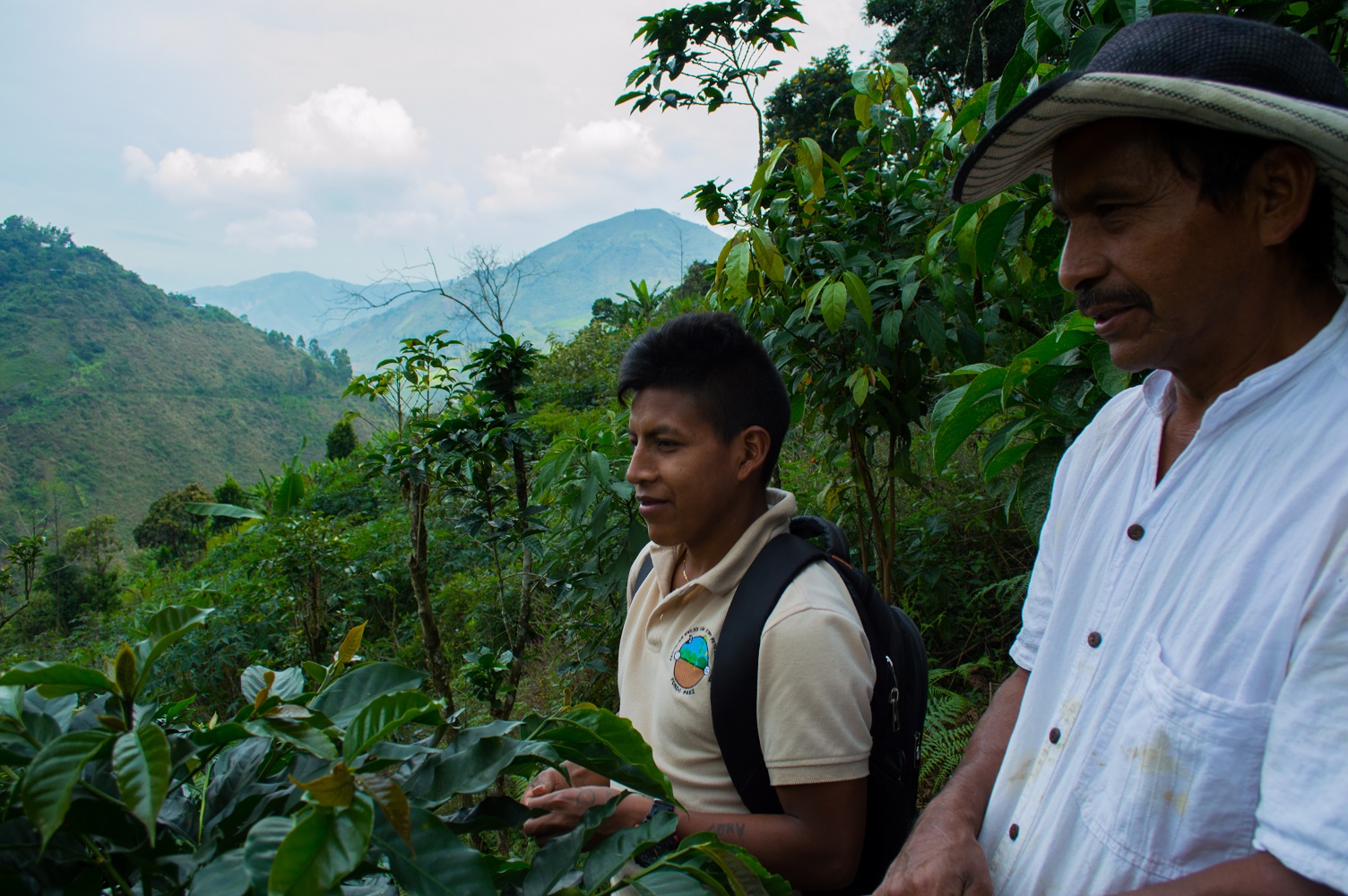 After our meeting with them, the community members took the delegation up into their shared community coffee farm, where they receive training from the cooperative's coffee "technicos" on how to use organic fertilizers and pest control, employ organic cultivation techniques and stay, on top of their quality. The members all have their own farms, but this shared farm offers them an opportunity to not only learn and improve their techniques but also supplement their income with additional coffee production. Pictured here are: Fredy Andres Dagua Rivera (left), the technical advisor and trainer for the families in the Jambalo Medio zone and Octavio Campo Quiganos, a long-term member of Fondo Paez.