Organic Decaf Blends for the New Decade
It's a new year, a fresh start, and a time for self-improvement. We all love that little boost we get from a fresh cup of coffee, but for some, caffeine can also come with adverse effects. While drinking coffee has many awesome benefits, we can totally understand why cutting back the intake is a somewhat popular New Year's resolution. Fortunately for those who are struggling to kick the caffeine, you can still enjoy delicious, organic decaf coffee from Sweetwater and keep your resolution!
About organic decaf coffee
Our partners use a natural water process to decaffeinate their beans, keeping our product fresh and organic. The natural water solvent used to remove the caffeine from the coffee beans is composed of water and green coffee extract, while non-organic decaf coffees rely on potentially harmful chemicals.
Our organic coffees are also all fair trade and locally roasted in Gainesville, Florida, so you can feel good about drinking and buying it.
A decaf for your dark side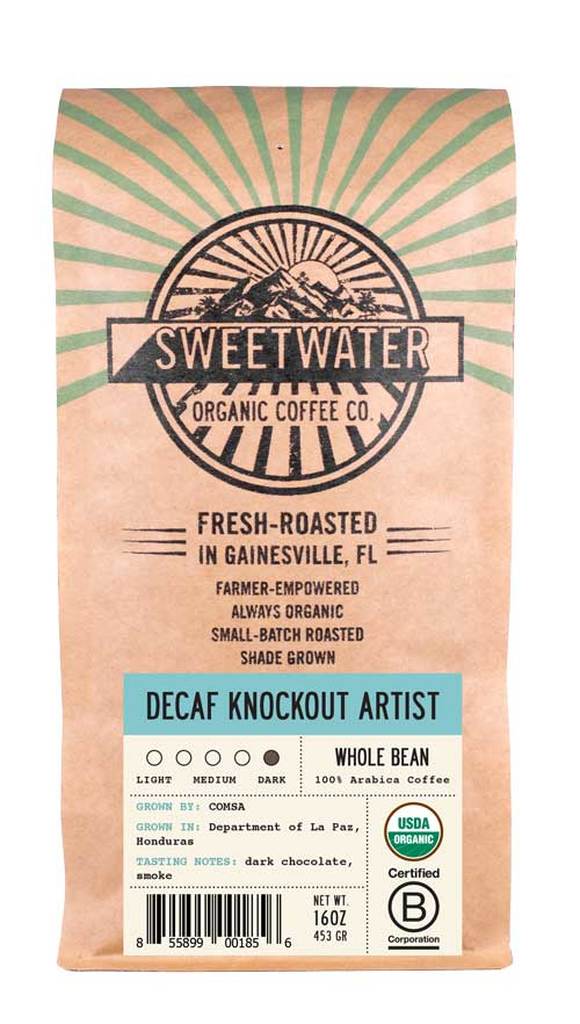 If you're looking for something dark, smooth and rich, try our Decaf Knockout Artist Dark Roast. With notes of milk chocolate and berries, this will satiate any coffee lover's desire for a good cup of joe. Even without caffeine, these bold flavors are sure to brighten your morning and leave you feeling good about what you're putting in your body.
Medium-body, full flavor
Grown in Peru, our Decaf House Full City Roast is a medium-bodied blend, perfect for anyone who likes their coffee on the lighter side. With notes of chocolate and caramel, try this blend if you're looking for something sweet and delicious. Enjoy a cup with dessert, and don't worry about whether or not you'll be able to fall asleep!
Need a little caffeine?
If you don't think you can give up caffeine cold turkey, try mixing either of our decaf blends with any of our caffeinated blends to cut down without giving it up completely. Whatever your New Year's resolutions are, kicking caffeine is an easy goal to accomplish when you have our delicious decaf blends helping you out!
Feel good about kicking caffeine
It's not easy to find a tasty decaf coffee, so to find one that's also fair trade and organic is something special. Our decaf blends leave nothing to be desired, with all of the flavor and quality you can always expect from Sweetwater Organic Coffee. Order any of our coffees online!