It's easy to meet new people at coffeeshops, and sometimes these meetings turn into friendships, business partnerships and, heck, you might even pick up a life partner! For Valentine's Day, meet three couples who crossed paths at coffeehouses ❤️
Vic and Ari met at Karma Cream in Gainesville, FL. Ari was already working there when Vic joined the team. They're both lead baristas. Karma Cream serves third-wave coffee, vegan ice cream, sandwiches and creative vegan baked goods, with occasional non-vegan options in the mix: (menu).
Vic felt isolated from their industry colleagues and embarked on a quest to meet new baristas in other coffeeshops. A Karma Cream employee invited them to come hang out.
Vic: He told me to meet here at Karma Cream and that's how I met Ari. And so we were just hanging out the first time I met Ari. I'm nervous around other people. We wound up going to Boca after and Ari and I decided to split mac and cheese balls and a burrito.
A short while after I applied to Karma Cream for unrelated reasons, I got brought on staff. I want to say a whole semester's worth of time I was seeing someone and Ari was seeing someone else and we were always really great friends throughout that. Then the person I was seeing moved away. Pretty much I was like 'hey what's up, you busy right now?' At 9:30pm on a Friday night.
They hung out all night, went in together to open the cafe the next morning and the rest is history.
Eva: What do y'all do at Karma Cream?
Ari: We're both lead baristas, I'm one of the supervisors. In general, we do a little bit of everything at the shop but also specialize in choosing the coffees we bring into the shop, do cuppings, make sure everything's in order in terms of coffee.
Vic: What distinguishes us here is we do third-wave style stuff and we do it well. We are a functioning up-there third wave shop; creme de la creme.
Eva: Creme de la Karma Creme.
Vic: If people want to customize their drinks, we service every type of coffee drinker.
Ari: Being vegan based is huge but I like Kyle (the owner) also provides non-vegan options.
Ari decides to mention they actually swiped right on each other almost a year before meeting, but had been too nervous to start a conversation with the other.
Eva: How much do you nerd out on coffee together?
Ari: I mean, pretty much every day at some point we get coffee and shoot the shit about what shop has the best coffee right now. The politics of coffeeshops of Gainesville.
Vic: We both enjoy experimental coffee and drinks, kinda digging the culinary aspect of everything. We'd been to lots of cocktail bars and apply those same concepts to coffee. We were just at the Dime and discussing the bitters and other things we want to make.
Ari: How we can use other culinary fields to enhance what we do with coffee instead of using the same five ingredients?
Vic: When we're traveling together, we at least hit up two third-wave shops together. There's one shop in every city we visit. In Philly it was Square One. In Ashville, Trade & Lore. I think it's really cute that we always have that one place.
---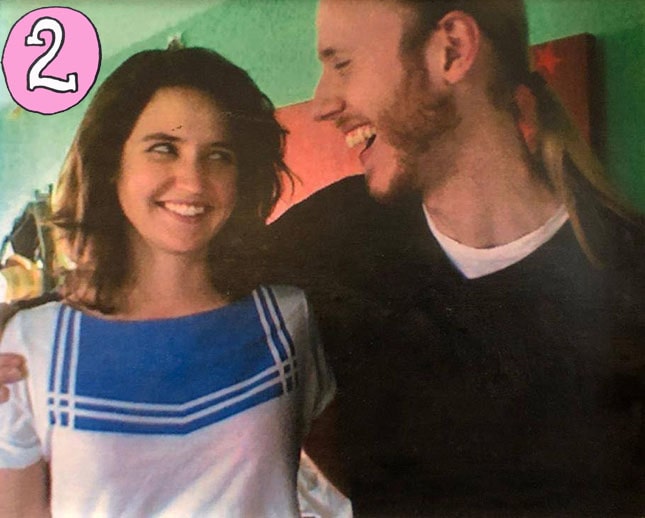 Rachel, who by coincidence just so happens to be a super coffee roaster in Albuquerque, NM, at her family's business Red Rock Roasters, met her husband Carson at an open mic at RB Winning Coffee. A local staple for early mornings brew and late night chats for 24 years, it sadly closed in 2019. It had a roasting machine in the space, and people joked they could smell burnt roasting coffee all over the neighborhood as the sun came up.
Rachel: We met in 2008 at The Above Average Open Mic at RB Winning's. He thought I was older than I was because I made a joke that I was divorced. He was writing his dissertation at UNM and I was an undergrad. He listened to every performer at the open mic with total attention: eyes often closed, always preparing notes for feedback. His generous attention is still one of his best qualities. I was like, "Who is this intense weirdo?" I was intrigued. He lived down the street from me with his best friend, Pete, and they had a hot tub and a great sound system and vintage arcade cabinets, which I found to be a little eerie. Like a trap for nerd girls. We watched Battlestar Galactica and listened to music. We're pretty different types of people, and sometimes I wonder if I would have met him had I been dating online.
(She pauses.)
I FORGOT! I impressed him with my ability to down scalding hot coffee in, like, a single minute.
That's a weird detail. It's not like a sex thing. I just grew up in the coffee business. I can drink a lot of coffee.
---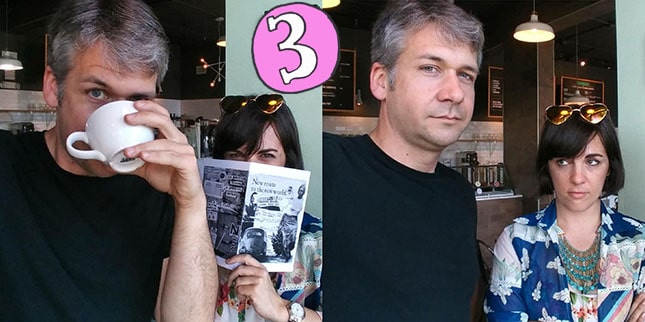 Eva was busy creating the Sweetwater Morning Monthly Florida Coffee Zine out of St. Pete and posting to Sweetwater Organic Coffee's Instagram. Chris was actively following Sweetwater. She was intrigued by his online name Coffee Anthropology - a Ph.D. candidate studying the politics of coffeehouses with interesting angles to his curiosity.
She asked him to distribute some coffee zines around Gainesville and he did; she interviewed him for the zine; he sent her a coffee book. Four months later they met at Karma Cream, took a selfie, and were married in six months.
Me: Chris, how did you come to meet your wife at a coffeeshop?
Chris: We had been talking on the phone for several weeks, and it had moved between a lot of personal and professional topics and so I was excited to meet her in person cause we had gotten along so well in our conversations on the phone. When I arrived, I already had plans that night about a 2-hour drive away so I was kind of rushed but was disappointed that I couldn't spend more time with her cause we got along so well in person.
I sat on the bench next to her and she had these funny little heart sunglasses and this really pretty necklace and it was a late afternoon cause the sun was shining pretty harshly in the window. The first I remember first is she had a striking look about her. She didn't really fit a type and had an energy all her own that was both captivating and fun. She was very easy to talk to and had a sharp wit which I always appreciate in another person. We just kind of joked around and talked about coffee for a little while and since we'd kind of met through social media, we decided to document the moment with a selfie. and took several photos, and decided to go with the one where she was looking annoyed and I was looking a little mischievous. We made a joke about I was Jerry from Parks and Rec and she was April Ludgate or Ann Perkins. And that was pretty much the end of it.
She needed to get back to St. Pete so we rode on my motor scooter for more than two hours for a museum party for her step-dad.
Me: I understand you were generally sour on the idea of marriage. Why did you marry her?
Chris: Sometimes you just meet a person and it makes sense. I didn't have a rational reason for not wanting to get married so I don't necessarily… you just meet a person and it makes sense and you're like — yeah, let's do this!

Now 16 months later, they still meet over coffee every morning. Sweetwater's Good Morning Gainesville is their favorite.
---