You don't pass Cedar Key on your way to somewhere, like a dot on the coastal highway. You turn down a specific off-road to get to this little island-city on purpose.
Population 700.
Maybe you were looking for that Old Florida feeling.
Maybe you wanted to go bird-watching along the Florida Gulf Coast.
Or maybe you got to Cedar Key simply by drinking a cup of Sweetwater coffee.
Enter to Win a Getaway in Cedar Key
Customers who purchase $75 or more in our webstore between Nov. 8 - Dec.15 will be entered to win a 2-night getaway in lovely Cedar Key, Florida. The winner will be randomly selected and contacted on Wednesday, Dec. 16.
The winner will stay in Firefly Resort Cottages and receive a gift certificate for 1842 Mercantile & Grind, the local coffee shop that is adored on TripAdvisor for its mouthwatering scones, great coffee and delicious breakfast and lunch fare.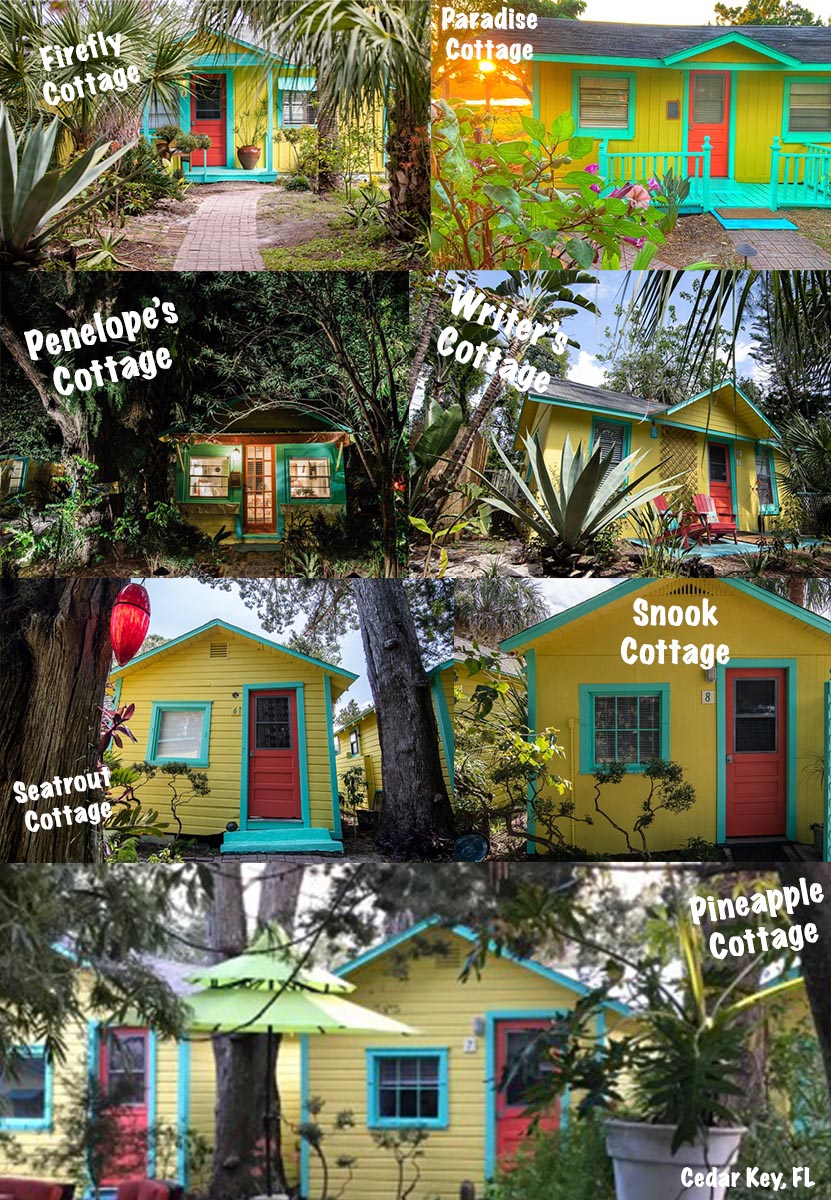 Choose any of these cottages to stay at if you win a 2-night stay in Cedar Key by ordering $75 or more in coffee by Dec. 15.
Cedar Key: "Deceptively Charming"
Things to do in Cedar Key include grabbing a drink or dinner at the historic Island Hotel, kayaking to a ghost town, exploring the area by bicycle, bird-watching, eating clams, walking the narrow streets full of unique little shops, galleries and restaurants, watching the sun set.
Ian Maki, who runs Firefly cottages with his partner of 27 years Darrin Newell, called the place deceptively charming. He and Darrin moved to Cedar Key in 2018 and took over Firefly, which has seven cottages, each with a name and a back story.
Since then, Ian and Darrin have completely remodeled the cottages (learn more about how they got to Cedar Key here).
Firefly: a Memory of Florida Fish Camps
But long before the cottages were ready for today's visitors, they functioned as a gulf fishing camp of the 1950's. Ian imagines a bunch of guys who didn't shower or shave would come here to pull big fish out of the gulf.
"Whoever they were, they built these cracker-style cottages meant to get trashed by the weather, get soaked, get flooded, dry out and get used; cots; the most rustic appointments; the sink would've been a fish cleaning station in the outdoors. I don't know if there even were showers, and cooking would've been done on a fire or a grill. You came inside to get away from the bugs and the rain. So it's hard to say how that went, but in my mind, America changed in the '60s and [with] automobiles...people started traveling further and looking for more excitement and for some reason or another, the popularity of fishing-camp lodging kind of went away."
The Mermaid's Landing in the 1970's
It fell into eventual disrepair until it was reborn in the '70s as The Mermaid's Landing.
"The Mermaid's Landing was developed by miss Betty Rose Cooke, she still lives in town, her son lives in town, he's one of the more successful fishmongers in town so he has a little seafood biz where he sells clams and crab and grouper," Ian said.
He described how she cobbled together some people who could wright the heaving, sloping structures back into working order in the '70s. He described how one of the cottages was used for the men's poker game in town, where they would be laughing through cigar smoke late into the night.
"It was very hard-scrabble," Ian said. "People lived a hard life, the fishing they did here was difficult, the waters that they plied were very giving but also very unforgiving and so the type of people that thrived here were the very resilient salt-of-the-earth, never putting on airs, what-you-see-is-what-you-get kind of folks; the kind that do not do well in the city, do not do well in a place where there's lots of rules. It's a hard thing to describe but it's authentic and genuine and there's no pretense. It's an unpretentious place."
A Restful, Peaceful Getaway Awaits
Ian is telling me all this while he makes a bed for some incoming guests. He gives the room a blessing for love, rest, sleep and peace.
"I want it to be just right for them."
He hopes our contest attracts people who really love coffee but have never experienced Cedar Key before.
"You can have your rowdy moment and then tuck yourselves away in a place that is an escape from time and anxiety and society. We believe there's a sleep spell on the property. Guests say 'I don't sleep well at home but, man, I fell asleep the minute my head hit the pillow.' We hear that all the time!"
Stock up on coffee today at https://www.sweetwaterorganiccoffee.com/coffee/.