At Sweetwater we have been kicking around the topic of early birds and night owls. Where do you fall on this spectrum? Check out some of our marketing team members' thoughts on the virtues of being an early riser or a creature of the night. No matter whether you like your coffee at the crack of dawn or after sunset, you can grab bags of our Good Morning Gainesville and Midnight Oil blends at 20% off through Wednesday 3/31. Not sure which way you lean? Try them both!

Early Riser!
I've always been an early riser. No matter what is going on in my life, I wake up excited about the possibilities of a new day.
My earliest "deep thought" memory is, as an eight year old, waking up at 5:30 a.m. one summer morning, grabbing my AM/FM transistor radio, throwing on my shoes, sprinting out into our backyard and plunging into the long damp weeds of the field just beyond it. I remember running down the muddy path back to a small grove of trees and looking up to make sure the neighborhood treehouse was unoccupied.
"Treehouse" might be a little too generous of a descriptor. It was essentially a piece of 3/4 inch plywood that one of the enterprising teens in our Nicholasville, KY neighborhood had managed to lug up and lodge in the first split of big branches. It sat there perched above the makeshift rotting wooden slats that he had hammered into the old oak to create a ladder. It was probably not nearly as secure as I thought it was, but at that moment I only cared about beating the older kids to the tree and getting up it as fast as possible.
Once I was up in the tree and sure there was no one around, I leaned back against the thick, cool, trunk and crossed my legs out in front of me. I looked out over the field and saw the sun rising creating orange and pink shades on the humid mist that sat over the green field. I flipped my radio on and immediately heard the smooth sounds of Mr. Eddie Rabbit singing "Every Which Way But Loose" — the theme song from the new Clint Eastwood movie that featured the adventures of Clint and his best buddy, who happened to be an orangutan.
I smiled to myself as Rabbit sang When the sun comes up in the morning, it should find me someplace new. All I could think about was the endless opportunities that I would have to someday get out of Jessamine County and see the world. Pure morning magic.
Fast forward many decades and I still am a morning person. To this day I am up by 6 a.m. and use the first 2-3 hours of my day to create, to exercise, and to dream. The treehouse and transistor radio have been replaced by a hot cup of coffee and my headphones. I find that mobile for me is better — I have to keep moving. Morning still holds for me all of the promise of life. It smiles and whispers to me and reminds me that, even at the age of 50, everything is possible.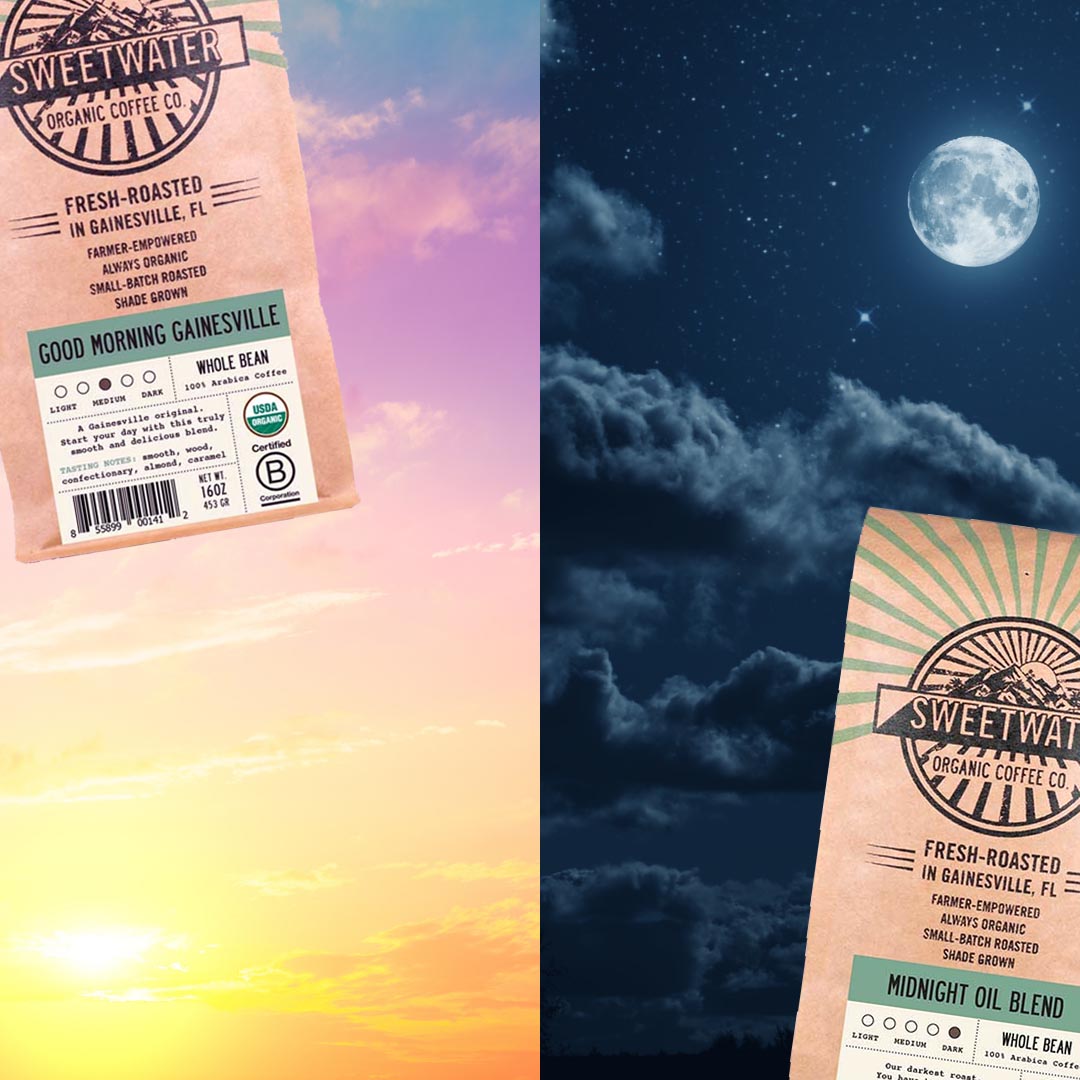 Night Owl
For me, it's the lights that shine in the dark that make the late night feel so alive. A candle. Neon signs. Stars. The emotional charge of the electromagnetic spectrum. As the moon rises, my world shrinks to an intimate size and I am free like jazz.
When I think of late-night coffee, I think of my father. We didn't see each other for more than ten years until I turned 18 and flew to Portugal to stay with him in the Algarve. He liked to stay up late until sunrise, just like me, working with his hands - tinkering - painting - wrapping copper wires into jewelry or fixing something broken. Every night he made a few pots of coffee that we drank out of big handmade bowls, painted in the traditional style of the Portuguese clay artists. This was the shared language between a man who spoke no English and a young woman who had forgotten most of the words she grew up with in the early years, in the old country, before everything changed.
Black coffee, warm moments. My heart glowed like a candle in that forever feeling that lasts until the sun rays start to peek out, at which point I'd retire to my loft bedroom in the house he'd built by hand out of a brick foundation previously used for drying figs.
After waking up in the afternoons, we took tinier cups of coffee at the cafe where he read the morning paper and I wrote in my notebook - mostly poems, memories, stories, letters to friends back home. I wrote like a coffee drinker. I drank coffee like a writer. Coffee was the glue that held us together despite a decade of distance.
As fall turned to winter, I left for Pennsylvania, my heart heavy from the weight of our summer but full of youthful resilience. I told myself it was a valiant effort, and I would try to connect with him again after more time passed. I didn't know that was the last time I'd see him.
I didn't want to go back to Florida just yet, so I flew to a friend's house in rural Pennsylvania to stay for a few months, where we picked up on the same lifestyle I'd grown accustomed to - sleep all day, drink coffee all night, practice drawing, painting, photography; drive to the Turkey Hill convenience store and drink more coffee. My friend knew the guy that worked there. We'd hang out at 3 a.m. a few times a week, and loved when a certain customer would show up in his car, play the batman theme song loud in his car while his dog howled along into the night sky.
Now that I'm an adult, I'm supposed to stick a daily workweek schedule, but when I can get away with it, I find myself naturally slipping into nocturnal mode, up all night sewing at my friend's warehouse for the movies and passing out around 4 a.m. on the cushioned sewing table once sleep takes over my thinning coffee buzz.
Life is a wild ride. And for every stop, there's coffee.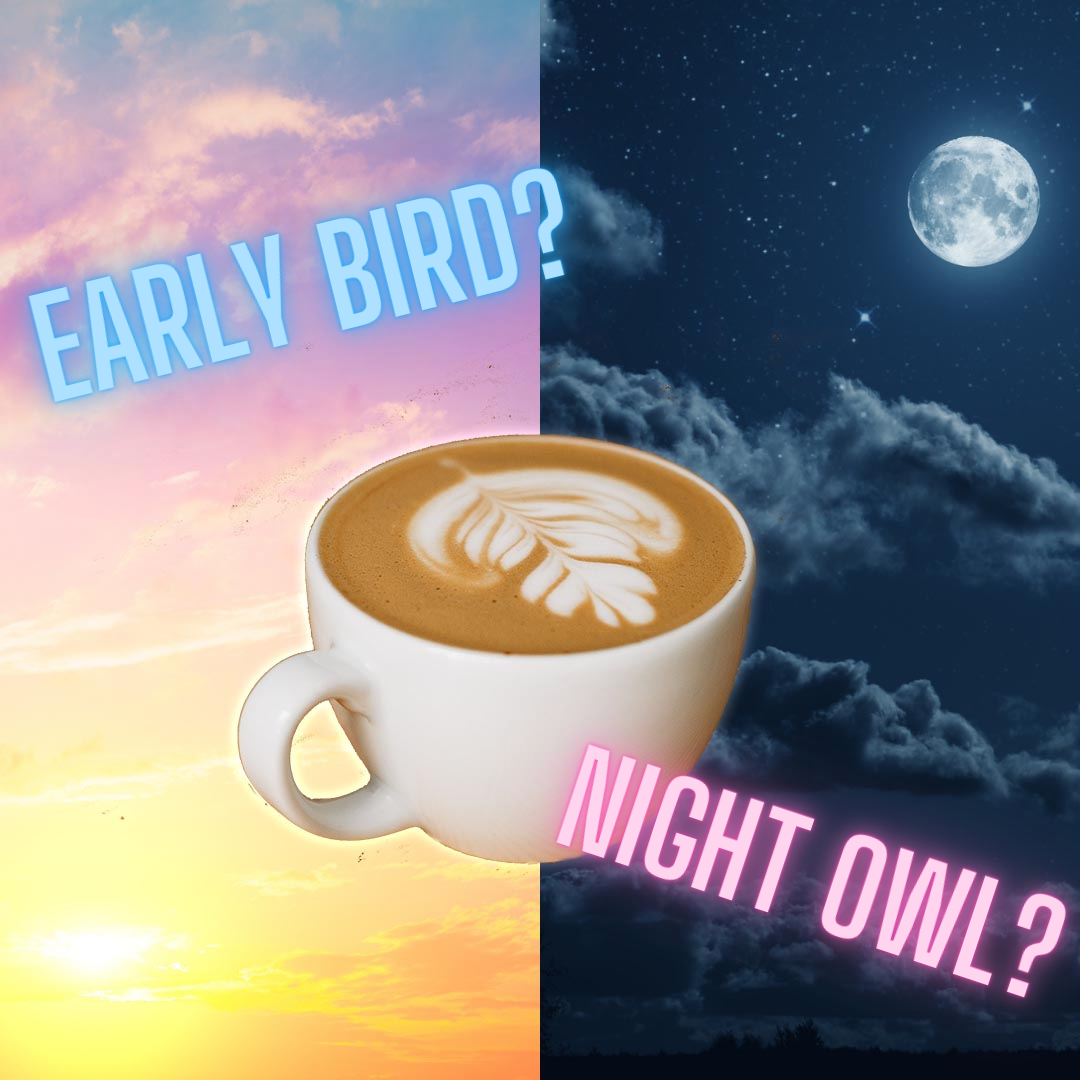 No matter if you are a morning person or a night person, we have a coffee for you. Today through Wednesday 3/31 we are offering our Good Morning Gainesville and Midnight Oil Blends at 20% off. Celebrate your favorite time of day by grabbing a bag or two of the coffee that speaks to you at this deep discount. Just use the coupon code BIRDS20 at check out to take 20% off of your purchase. Don't sleep on this deal - offer expires on Wednesday 3/31 at 11:59 p.m. EST.