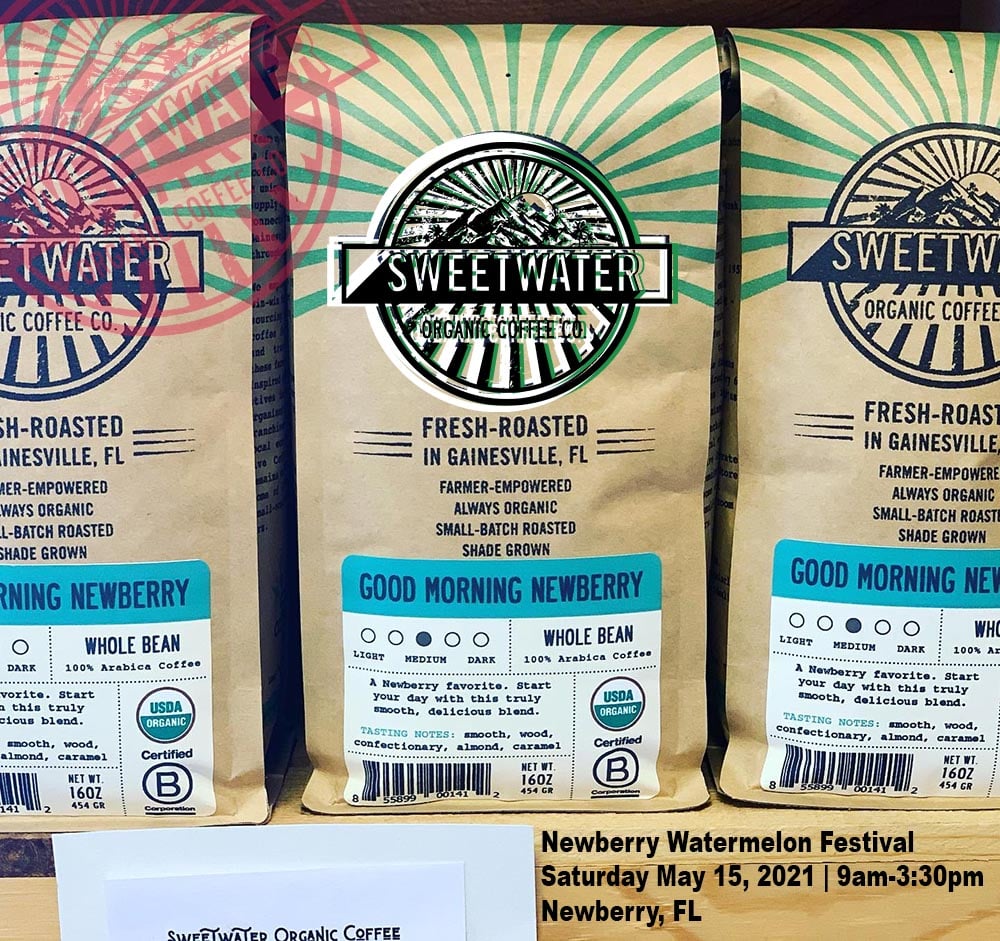 What's so cool about Newberry, FL?
Well, besides the fact that you can find Sweetwater Organic Coffee at Sycamore Lane Vintage Market and the big Hitchcock's Markets, Newberry hosts the longest-running festival in the United States!
The Newberry Watermelon Festival began in 1946. Originally a mining town that produced phosphate (which seems to get used in pretty much everything), Newberry's industry shut down in 1914 after war was declared on Germany, their biggest customer. By this time, they'd become an established town with railroads, saloons, boarding houses and trading centers. A lot of people lost their jobs, so they turned to agriculture and found they were especially good at growing watermelon.
This year on Saturday, May 15, the Watermelon Festival continues the 76th year of its tradition that includes a beauty pageant that crowns its annual Newberry Watermelon Queen, and spin-off competitions for dogs and golf carts dressed in watermelon themes in the big parade that kicks off the festival. There's also a watermelon eating contest.
The festival beauty pageants are held a week before, on May 8, so that there's time to choose a queen for the main festival day. The pageant winner, for one year, will go on to fulfill the responsibilities that come with the crown.
It sounds like the whole town gets involved! Joel Searby, owner of Sycamore Lane Vintage, said the parade runs right in front of his store so he'll have some special sales and extra things going on there, and the farmer's market next door will also be out the Saturday morning of the festival.
"We expanded our offerings in our shop to include foods, and we really love coffee, and we thought, 'Well, Sweetwater is our great local provider!' It's been going great and I'm actually placing another order today. I knew you'd done specialty blends - I saw one at Cedar Key actually, and I asked Tina if we could do the Good Morning Newberry blend and we put it together and are selling it in the shop."
He said the free watermelon tent and pageant will be about a mile down from his shop.
Every year the Watermelon Festival offers free watermelon provided by a local grower, which is a lot of watermelon, because about 5000 people attend every year, which is almost the size of the town's population!
Saturday May 15, 2021
9am-3:30pm
Country Way Town Square