Members of the Sigma Mu sorority pick up trash at Hogtown Creek in Gainesville, FL.
The main day of our nation's biggest grassroots spring-cleaning movement is Saturday, April 17.
The Great American Cleanup spans March 20-June 20, encouraging people to organize their own clean-up crew, join a group, or go out on their own. For safety, it's important to wear a bright vest, gloves and use a gripper to pick up trash.
Gina Hawkins of Keep Alachua County Beautiful doesn't wait for the sanctioned day. She's busy organizing volunteers all year, though she did host a Great American Cleanup event for Gainesville Saturday April 10, bringing in over 300 people to pick up litter along roadways while a smaller group planted trees.
Sweetwater donated ten bags of coffee for the effort, as we've done for the past decade to keep volunteers going strong in the field and in the coordinating office. Whatever they don't drink, they give away as prizes.
Sweetwater: Have you been organizing events all since March 20 and you'll keep going through June? Or do you do this year round?
Gina: We laugh about this because we do this every day - every day we go out with volunteers. We just had 70 volunteers clean up along the Hogtown Creek. That's the one group from today. So while some people have one clean-up event each year, we have cleanup events every day, so long as there's no lightning.
It sounds like, if it wasn't for you, Alachua County would be a lot more trashed.
Correct. Even someone from the solid waste division was remarking that we stay ahead of the problem. We get to illegal dump sites as fast as possible. Trash breeds more trash. If they see litter on the side of the road, they will throw more down. We do this every day, and people look at me like I've got two heads when i tell them that but we've got this large university with more than 50,000 students. All the service clubs, the sports teams, they all have to do community service to be a campus organization and we're here to help. They come by, we give them supplies. Most of our cleanups are self-led, self-directed, which means they can set what time; if they have a site in mind already, they can clean it up or we can give them a site. We try to make it as easy as possible for people to try and volunteer.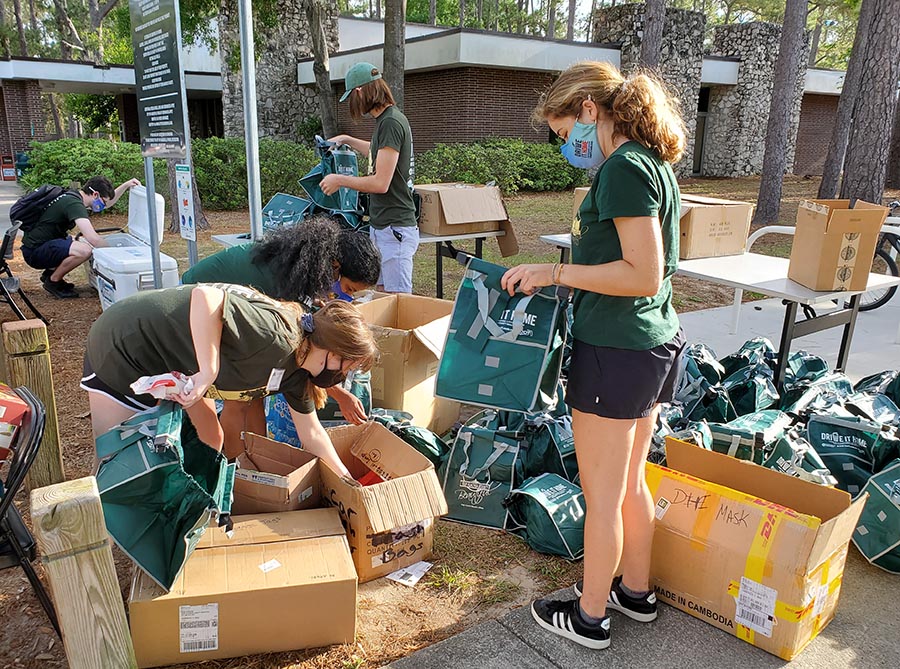 Volunteers assemble kits for the volunteers.
Can you list off from the top of your head all the ways people can help beautify their communities?
The four Ps: Picking up litter, Planting trees and plants, Painting over graffiti and Pulling invasive plants. Cause if you like to eat, we need pollinators and native plants planted. Without pollinators, there's no food. Painting over graffiti is important because it breeds crime. As soon as we find out about it, we remove it.
Pick up litter. The number one way they can help is to bag their trash and drive it home, drive it to where it can be disposed of safely and that includes the trash they put on the curb on collection day. If it is not bagged securely, when the trash collector tips into the hopper, it will blow out. The trash they see on the street may be their own, so securing their trash and disposing it properly is the number one way they can reduce litter. If they're a business, they can provide receptacles so patrons can dispose properly, otherwise they will throw it into the parking lot and it will wash away into the creek in the next rainstorm. It floats downstream and there are animals along the way that mistake it for food, and the trash can clog the creek and flood their property. When storm drains get clogged with litter, we're talking about property damage.
The last one is the invasive plants - they compete with native plants and agricultural plants and destroy natural areas so we have the volunteers pull coral ardisia, cesar weed and air potatoes.
Because of safety issues we issue grabber sticks, gloves, masks, hand sanitizer and vests because, according to law, you have to wear a vest whenever you're working (in the vicinity of road traffic).
Picking up litter is just so gratifying! For ideas on how you can help in your own neighborhood, visit the official Keep American Beautiful site at https://kab.org/20-ways-to-participate-in-the-2021-great-american-cleanup/.