On behalf of everyone at Sweetwater and our hard working trading partners throughout the world's coffee lands, we want to thank everyone who made this year's Fest such a blast! For those who don't know what Fest is... it is an iconic three-day punk rock music festival right here in downtown Gainesville which has been around for 14 years now. Sweetwater has been involved for the past three years and this year we were the official coffee of Fest (thank you Fest!)... providing coffee to the bands and stage hands. Between topping off pots of coffee and restocking cups backstage, we were hanging out with music lovers from all over the world and watching some of our favorite bands.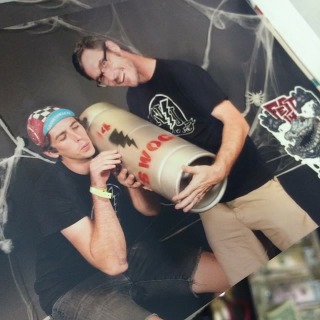 This was the first year of doing Fest with NitroJoe, and considering we went through about a keg each day, we estimate it was well-received. We had it on draught backstage of Lot 10 (the main stage) and we received a ton of positive feedback. We also had a keg set up at the yard sale on Friday, which is where all the vendors promote, sell, and raffle stuff for most of the Fest attendees. The sale happens in the registration line, where the party officially starts. We had a prize wheel with us, and whoever bought a pound of coffee got to take a spin. The worst you could do was win a NitroJoe koozie and some stickers, while the winners got either an additional pound or a gift card for a Fest tattoo from Anthem Tattoo Parlor. Fun was had by all.
Last year we got to see one of our favorite bands, Descendents, and this year was headlined by the self-proclaimed king of partying, Andrew W.K. The weekend ended just as quickly as it came, though (bummer). But... we made some new friends, saw some new bands, and had a fantastic time just a couple of miles from our homes and from the roastery. It's always bittersweet seeing the last bands wrap up on Sunday night. It's sad to see the fun, music, and comradery draw to a close, but it's a bit of a relief to put an end to three days and nights of partying.
Until next year... Goodnight, Fest!