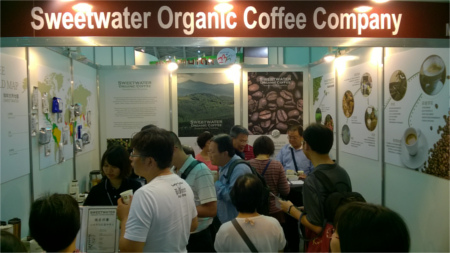 That's right… Taiwan! Earlier this month, I had the opportunity to travel to Taipei to work with our distributor and his outstanding team of Sweetwater fair trade organic coffee aficionados there to introduce our coffee and business model to the Taiwanese coffee market, which is by all measures quite advanced and unyielding in its demand for quality coffee.
I'm happy to report that our participation in this important event was a resounding success… thanks to the diligence and hard work of our coffee farmer trading partners, the team at Sweetwater in Gainesville, and our Taiwan distributor ( Worldgate Distribution Asia Co. Ltd) who did a spectacular job not only sharing the Sweetwater experience but also serving up consistently awesome coffee samples to the endless stream of folks who visited our booth.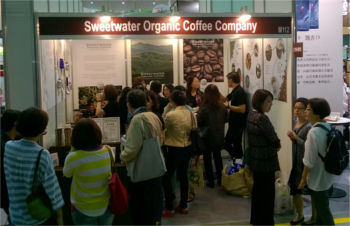 As far as we can tell, Sweetwater was the only US – and certainly the only US fair trade organic – coffee roaster at the show, which ran from November 13-16. The event turned out to be the perfect venue to share the Sweetwater story and business model with the throngs of intensely interested consumers and prospective wholesale customers who attended. We're also pleased to report that Sweetwater received compliment after compliment for our quality and flavor… resulting in more than 180 orders and the identification of about a dozen prospective wholesale customers.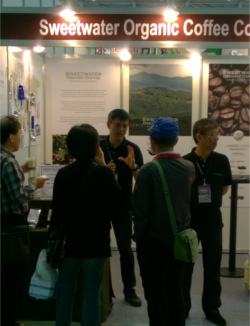 On behalf of everyone at Sweetwater Organic Coffee, we want to thank Ti En, his wife May, and the Worldgate staff for all their hard work on behalf of Sweetwater and our trading partners – they are kindred souls and ideal partners. We also want to thank our friends at Enterprise Florida for their support; besides providing encouragement and advice, the good folks at Enterprise Florida also approved a grant to help us offset the cost of the booth at the show. Given the distance to this new market, their assistance was particularly helpful. Finally, we want to thank all of the good people of Taiwan and the surrounding region who took the time to visit our booth, hear our story and take an interest in what we are about.
Stay tuned for more from Taiwan and beyond!